I missed Jennifer's post this past Friday, saying my squares from her were in the mail. So imagine my surprise and delight when my mail carrier brought an incredibly fragrant package to my door this afternoon!
As soon as I brought it inside, my kids all said, "Mommy, what smells so good?!"
Inside a pretty box and tissue paper, I found a packet of huckleberry/hazelnut scent beads, which Jenn made herself. After sniffing the beads a few times, I read Jenn's sweet note and unearthed more goodies. In addition to the scent beads, Jenn sent me two gorgeous pieces of finishing fabric, Mill Hill beads, Splendor silk, a spool of purple ribbon and a purple ink pen.
Then there were the squares...oh, the squares! Jenn went all out to make certain I would have squares that I would love and she couldn't have done any better! She stitched an adaptation of a Joan Elliott design and I can't decide which square is prettier!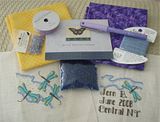 I've already looked through my stash and found some unbleached muslin, batting and Polyfil. I'm going to make a little pillow out of my squares and tuck a muslin sachet inside the pillow. Of course, the sachet will hold the scent beads from Jenn!
Thank you so much, Jenn, for making my first exchange with this group so very special! Thank you as well, to Vonna, for running this group!